Dear visitors to the Official Website of the N.Y. Vaptsarov Naval Academy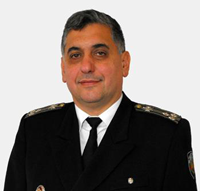 It is my pleasure to welcome you to the Naval Academy, of which I am the Commandant.
N.Y. Vaptsarov Naval Academy is the oldest technical school in Bulgaria. With its illustrous history and traditions in training sea specialists, N.Y. Vaptsarov Naval Academy is one of the symbols of Varna and Bulgaria in the world maritime community.
At present, the Academy trains specialist for the Navy and for the merchant marine in all areas of maritime life.
Research and development conducted at the Academy have established its reputation as a centre of maritime science and marine technologies.
N.Y. Vaptsarov Naval Academy maintains international contacts with similar schools and academies from the USA, Germany, Italy, Turkey, Ukraine, Romania, Poland, etc. The Academy is one of the founders and an active member of the International Association of Maritime Universities (IAMU).
I hope that you will find all the information you are interested in on our website. We are always open to new contacts.
The Commandant of N.Y. Vaptsarov Naval Academy
Captain (Navy) Boyan Mednikarov