Naval Warfare Officers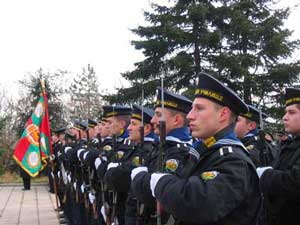 The course of study lasts 5 years. There are two parallel and simultaneous major programs underlying cadets' training: Navy Task Group Organization and Control as well as Navigation. On successful graduation cadets acquire two B. Sc. Degrees in the respective majors.
The academic syllabus includes Science, Seamanship, Navigation, Ship Handling and Manoeuvring, Weapons Operation and Employment, Ship Damage Control, Communications etc. English, IT and Social Sciences are part of the syllabus as well.
Internship is conducted on board naval ships and covers all aspects of the future Naval Warfare Officer duties.
The course of training concludes with state exams in the majors and English.
Graduates can occupy the following posts in Bulgarian Navy: platoon commander, head of operations and navigation department on board all naval ship types, weapons department head, missile boat commander, executive officer, watch-keeping officer on merchant sea- and river-going vessels.
Active-duty Navy officers enhance their knowledge by attending courses held at the Academy Postgraduate Qualification Centre.