Deck Officers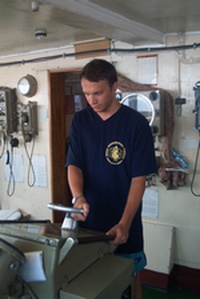 On successful graduation from the Academy, students acquire a M.Sc. Degree, a Degree in Engineering and Certification as an Officer in Charge of Navigational Watch according to the mandatory requirements of the STCW Convention. They can start their career as Third Mates and further be promoted as Second Mates, Chief Mates and Masters on board all merchant ships. They can also be employed as ship managers, shipping agents, brokers, cargo surveyors on management level.
The academic syllabus includes fundamental subjects such as Calculus, Physics, IT, Foundations of Mechanical Engineering, English, etc.
The specialised level includes Seamanship, Navigation, Ship Handling and Manoeuvring, Aids to Navigation, Shipping Economy, Radar and Sonar Systems, Safety of Shipping, Maritime English, Cargo Handling and Stowage, Celestial Navigation, and Maritime Law.
The course of training concludes with state examinations in the major and in Maritime English.
Internship is conducted both aboard ship and in port covering all aspects of ship management and operation.
Postgraduate courses are held to enhance the theoretical knowledge of Deck Officers to assist them in meeting the requirements for certification on a management level and passing the appropriate examinations to the satisfaction of the Maritime Administration of Republic of Bulgaria.