Marine Engineers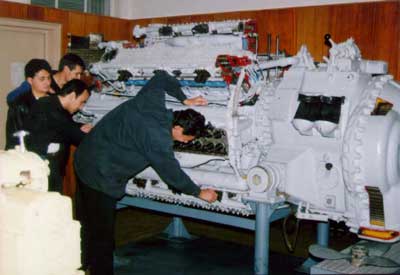 On successful graduation from the Academy students acquire a M.Sc. Degree, a Degree in Engineering and Certification as an Officer in Charge of an Engineering Watch according to the mandatory requirements of the STCW Convention. They can be employed as Marine Engineers on board all merchant ships, as well as occupy different management positions in maritime transport and industry.
The academic syllabus includes fundamental subjects such as Calculus, Physics, IT, Foundations of Mechanical Engineering, Technical Drawing, Metallography, Metals Technology, Foundations of Mechanical Theory, English, etc.
The specialised level includes Ship Power Plant Operation and Maintenance; Marine Diesel Engines, Turbines and Systems; Ship Electrical Installations; Ship Repairs.
The course of training concludes with development and presentation of a diploma project and a state examination in Specialized English.
Onboard training on foreign-going vessels covers all aspects of ship operation, maintenance, servicing and repair of ship power plants.
Postgraduate courses are provided to enhance the theoretical knowledge of Engineer Officers in order to assist them in meeting the requirements for certification on a management level and in passing the appropriate examinations to the satisfaction of the Maritime Administration of Republic of Bulgaria once they have the appropriate service experience.