Ship Electricians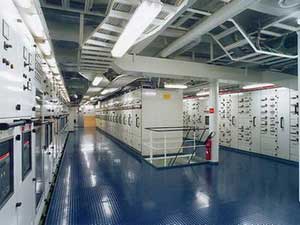 Upon successful completion of the four-year course of training, the graduates acquire a bachelor degree and are qualified to work as ship electricians on merchant ships of the corresponding class, as well as other managerial positions within the sphere of maritime transportation and industry.
The students acquire profound knowledge in general training and engineering disciplines – Calculus, Electrical Engineering, Mechanics, IT, Basic Automation, English, etc., as well as specific engineering knowledge about ship power plants, ship electrical systems, electrical equipment, electrical propulsion, including the necessary information about the ship propulsion plant and the automation of its processes, the ship mechanisms and systems and their automation.
For those willing to enhance their training in subjects related to the studied disciplines, optional courses are provided.
The course of training concludes with state examination.
The bachelor degree gives the opportunity for the graduates to acquire a master degree after further training following the Master Degree programme.
In accordance with Ordinance No6 by Maritime Administration Executive Agency, the position of an electrician is mandatory on all Bulgarian ships with power plants in excess of 750 kVA.